LIX-Lithium Thionyl Chloride 3.6V/3.95V
LIX-LITHIUM Thionyl Chloride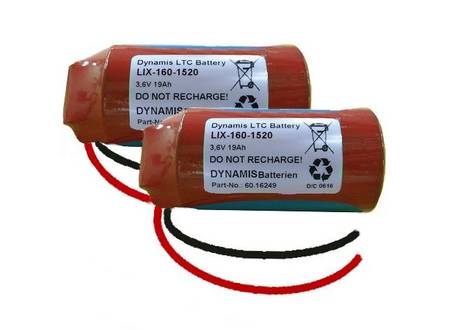 DYNAMIS LIX-Batteries = High Capacity Lithium battery + Supercap
= High Capacity and High Pulse Capability


The new DYNAMIS battery product line, LIX, is especially optimized for pulse applications and
contains a high capacity Lithium battery and a supercap.
The product combines the high-capacity advantage of both technologies: A superior capacity
and exceptional pulse reliability.
With a value of 2 A max. the pulse capability is especially high.
The high charge current of the Supercap means the recharge is particularly efficient and
allows a high pulse rate. This product is also very suitable for discharge terms to 1s.


LIX Batteries Nominal Voltage 3.6V = High Capacity Lithium Battery + Supercap
Types LIX-110-1150 to LIX-160-1520 with various terminals

Supercaps (Capacitors) Voltage 3.95V
SCX-1020 to SCX-1550 with various terminals

Available ex stock.