Lithium Polymer Accus 3.7V
LITHIUM-POLY-LINE Polymer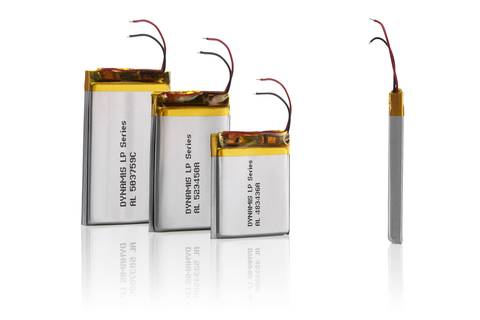 Prismatic cells in Standard and High Cycle versions
Special High Power type - recharcheable

- Space-saving assembling in various sizes and capacities
- Packs with nominal voltage from 3.7 up to 66.6V possible.
- Custom versions of protection circuit (PCB) with various possibilities for
parameter registration to ensure safe operation
- Optional: charge state gauge, cell balancing

In our DYNAMIS Test Laboratory we execute and certify Transport Safety tests according to UN 38.3
requirements and Safety test for the use in applications according to IEC 62133 requirements Chapter 7 and 8.


New:
Cell LP 553770G 3.7V and 1700 mAh with housing, developed for ambitious applications
e. g. medical applications. For this cell tests according UN 38.3 and IEC62133 are already
executed and certified. Part-no. 60.10262.
We are pleased to offer our customers technical support and design-in solutions.
Part no.
Type (1S1P)
Footprint
Capacity
Dimensions:
Th/W/H (mm)
Weight (g)
60.10097
*1624
150 mAh
5.0/16.5/24.5
3.0
60.10215
*2020
105 mAh
4.0/20.0/21.0
12.5
60.10016
*2030
240 mAh
5.0/20.0/30.0
5.5
60.10102
*2030
190 mAh
4.0/20.5/30.5
5.0
60.10105
*2035
350 mAh
5.5/20.0/35.0
8.0
60.10106
*2035
380 mAh
6.0/20.0/35.0
11.5
60.10124
*3248
600 mAh
4.2/32.5/48.5
11.0
60.10048
*3250
1250 mAh
7.2/32.0/50.0
19.5
60.10216
*3434
400 mAh
4.0/34.0/34.0
9.0
60.10092
*3759
1250 mAh
5.2/37.5/59.5
25.0
60.10172
*5365
2500 mAh
6.0/53.0/65.0
41.0
60.10161
*6377
2500 mAh
4.7/63.5/77.5
30.0