Lithium Manganese Dioxide 9.0V
DYNAMIS LITHIUM-MANGANESE 9V Block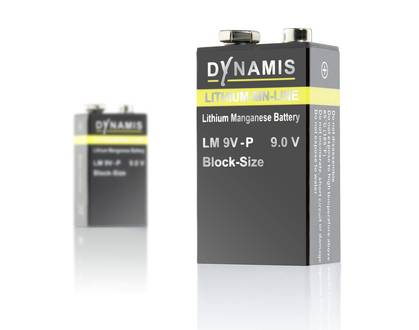 The DYNAMIS Lithium Manganese 9V block battery is now available in a new version following automation of the production processes to ensure a constant high quality.

The 9V block combines high capacity of 1300 mAh, constant discharge voltage and high energy density. It is designed for a working temperature range of -30°Cto +85°C. The high performance of the 9 Volt block is completed by a very low self-discharge and a 10-year service life. High pulse current capability and light weight are also major features.

Ideal areas of application are microphones and other products for Sound Systems, Medical Devices, Alarm Systems and Security Equipment, as well as Smoke Detectors, Meters and Gas Emission Alarm Devices. In addition to that we supply this battery for use in many kinds of Measuring Devices, Control Systems, Music, Audio and Industrial applications.


Part no.
Type
Capacity
Voltage
Currents
Dim. (mm)
Weight (g)
60.08012
1300 mAh
9.0 V
120/400 mA
26/17.2/48.8
50